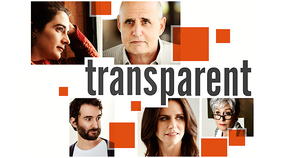 Season 1 of Transparent aired in full on September 26, 2014 on Amazon with the pilot debuting on February 6, 2014. On October 9, 2014, Transparent was renewed for a second season.
Transparent is the first show produced by Amazon Studios to win a major award. It is also the first series from a streaming video service to win a Golden Globe for Best Series.
A Los Angeles family and their lives change after discovering that the person they knew as their father Mort is transgender.
Recurring
Edit
Melora Hardin as Tammy Cashman
Alexandra Billings as Davina
Kiersey Clemons as Bianca
Rob Huebel as Len Novak
Zackary Arthur as Zack Novak
Abby Ryder Fortson as Ella Novak
Lawrence Pressman as Ed Paskowitz
Amin Joseph as Mike
Emily Robinson as Teenage Ali
Dalton Rich as Teenage Josh
Kelsey Reinhardt as Teenage Sarah
Cleo Anthony as Derek
Carrie Brownstein as Syd Feldman
Deborah S. Craig as Kristin
Sawyer Ever as Zack
Kathryn Hahn as Rabbi Raquel
Bradley Whitford as Marcy